Get SMAHRT with #SummerResearchScholars
Check out what Summer Research Scholars is all about with this video:
 Click here to apply to 2018 Summer Research Scholars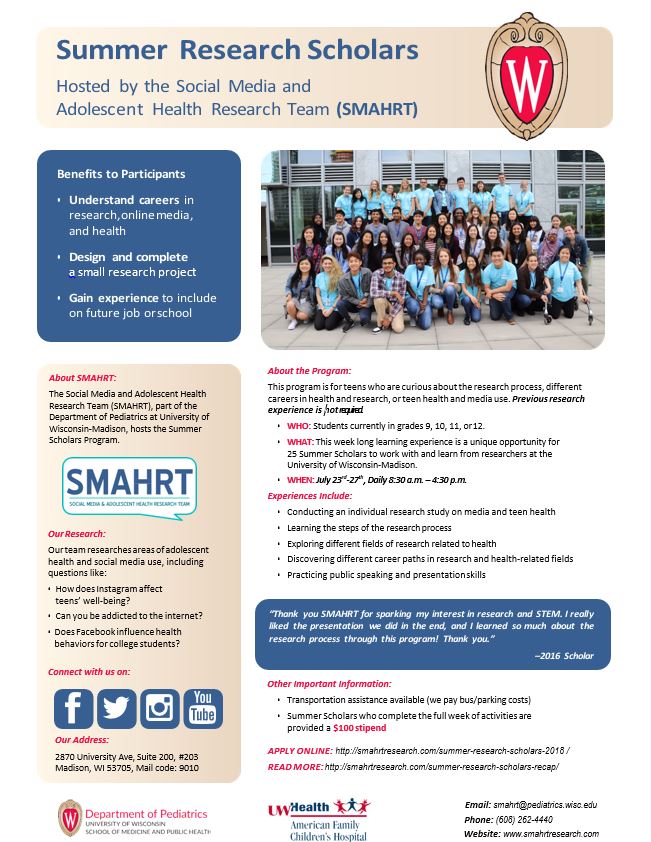 What is it?
Each summer, the SMAHRT research team hosts the Summer Research Scholars Program. This five day event provides 25 9th, 10th, 11th and 12th grade students with an opportunity to conduct a relevant research project, even if they have no prior experience.
When is it?
The 2018 program will be held from 8:30-3:30 p.m July 23rd-27th at the Health Science Learning Center located at the University of Wisconsin-Madison School of Medicine Public Health.
Health Science Learning Center: 750 Highland Ave. Madison, WI  53726
What's the purpose?
With our Summer Scholars programming, SMAHRT aims to engage students who may not have other opportunities to engage with topics in research and health-related fields. We do this by . . .
Providing learning that is interactive, hands-on, and enjoyable
Guiding Summer Scholars toward creating a research product to present by the end of the session
Increasing awareness of future possibilities for a career in research
What's in it for me?
Students will design their own research project centered on teen health and social media, learn different types of research methods, discover a variety of career paths in research and health-related fields, and practice their public speaking and presentation skills.
The SMAHRT team moved to Madison, WI from Seattle, WA in September 2017. The Summer Scholars Program was hosted at the Seattle Children's Research Institute (SCRI) in Summer 2015, 2016 and 2017! Check out our Summer scholars recap page to learn more about the program from previous years. You can also find more information about past programs using the #SCRIScholars hashtag on twitter.
For more information, contact us at SMAHRT@pediatrics.wisc.edu