Applications are OPEN!
This year, SMAHRT will be hosting SCRI Summer Scholars from July 10-14th, 2017 at the
Seattle Children's Research Institute (West 8th Building) located in Downtown Seattle.
Follow Link: https://goo.gl/forms/hPRVH4tNaj411z7z1 to find the application.
Deadline for the Application is April 30th, 2017 by 11:59PM PST.
For more information about this program: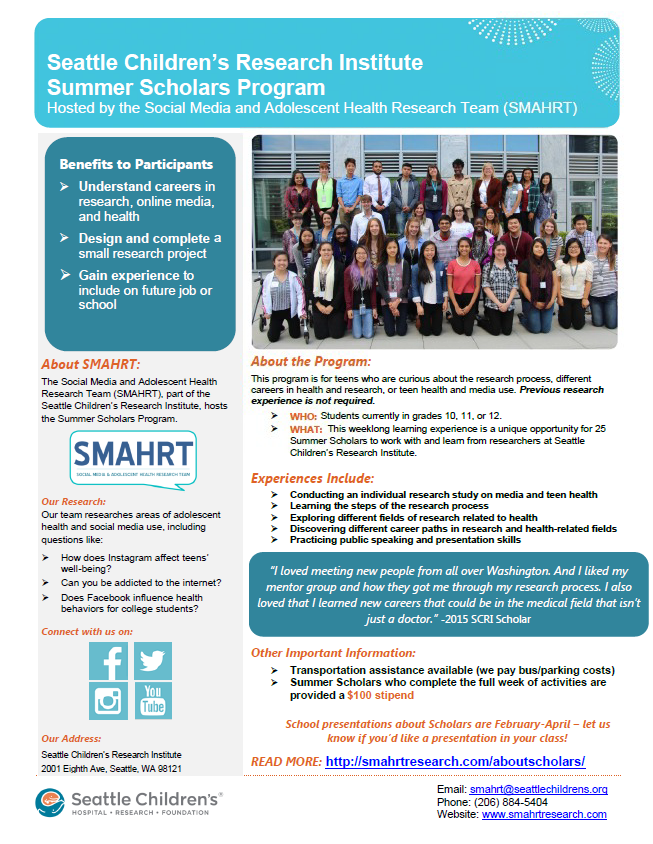 If you have any questions about the application or the program, feel free to email smahrt@seattlechildrens.org.
To learn more about the Seattle Children's SCRI Summer Scholars hosted by SMAHRT 
click here.
To learn about past programs, visit our Throwback page.
Want to see what Summer Scholars alumni are up to now? Check out our SMAHRT Features website to learn more about how Summer Scholars impacted past participants!